It's Not Enough to Pay the Bills
October 22, 2016
Looking down at my hands,
The way they tremble as they
Grab onto my skirt awkwardly
Fumbling at what is left of my
Rations to support myself with.
I have no food left in my fridge,
And I am hungry.
No one said life was easy.
No one said it was fair,
I work everyday for a dollar,
But I can't afford a loaf of bread.
And I'm lying here on the floor,
God, I've never been so cold.
I cross my eyes over to my table.
My pills - there are only two left.
I can't afford another bottle,
Another hit. Life can only support
Whom it pleases and that's just not me.
And I have no one left who will care to
Even look to help just a little,
Cause people don't even glance
When a mother can't feed her starving child
"Mama, just another piece."
But when you don't have another piece,
All you can do is look down at those same
Hands you did before, and fold them up,
turn the cheek so your baby won't see you cry.
My husband's on the run, he left before he even came.
Now it's my job to love and support what I made.
That little boy looks at me with love, but I can't even
Have the decency to smile, so he doesn't cry into his pillow every night.
Honey, I know it's tough, and I know you still miss your dad.
But he's just hoping to give you a life we've always dreamt of having,
So just swallow those tears to the back of your throat, and
Suck it up, be a man. Cause, dammit, you're my son,
And that's saying something more than you'll ever understand.
So when the day comes that you come home,
You won't get a hug, not a kiss.
Nothing but a smack to the face,
Because you left us in the cold,
Struggling to pay rent, and with a child that is the love of my life.
And I tell him that everyday, showing love, and hate; confusion.
For one day he will have enough of being under mommy's wing.
And he will leave me… Just as you did.
And that will be the day I end my life.
No one said life was easy...
No one said it was fair,
And no one told me how to love right;
And I'm lying here on the floor,
God, I've never been so cold.
I can fend for myself.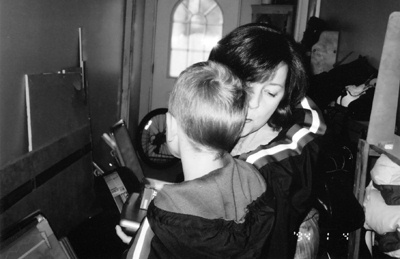 © Lindsey S. Pequannock, NJ