Fireworks
September 22, 2016
Light up and fly
And shoot into an endless night;
My vocal chords become a whistle
As I ripple the bounds of sound.
A crack; a swift note of thunder;
I have reached the end of expectations
And I crash into the atmosphere,
Bursting into a million shards of emotion,
Fragile and electric nerve endings scattering.
A fizzling downpour of lightning rains down,
Spreading and fading out
As the night snuffs my colours out
And replaces them with smoke-trail memories;
But the eyes of the onlookers are blinded,
Still branded with the bright explosion
Of a fleeting eternity too swiftly passed;
Their ears still echo with the force of my words
That ring between the lingering screams.
And beyond the thoughts of those left behind,
The pieces of my heart drift
Out of reach of sound and sight.
An almost undetectable breeze blows;
I reach through the fragments of my brokenness
And catch ahold of unseen hands;
I am ready to start a new adventure.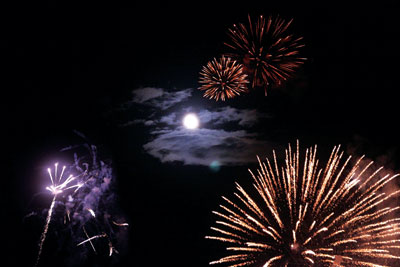 © Meena K., Groton, MA