S-ink-ing
September 8, 2016
It would be a lie to say
That I'm not a piece of paper
That tears up too easily
And bends in the slightest wind.
I don't give my ink time to dry
Before my tears make it leak,
Blotting out the happy moments
And replacing them with darkness.
My heart is a black stain
Spread across frayed edges
And hidden in the creases
Where I've folded myself away
And hidden from the world.
Pieces of tape cover cuts and rips,
Clear tape so no one can see my wounds,
But it loses its worn-out hold on me
And I fall apart yet again,
Crumpling in a forgotten corner
Like an uninspiring idea for a novel
That should have been worth reading.
Somewhere on the crisscrossed lines
That have long since faded from my skin
But not from my memory,
A happy poem was written:
A melody more pure than life itself
And the steps to the dance of hope,
But an inky night came over me
And shadowed over my happiness,
Leaving no room for stars.
Now my secrets lurk in the depths
Of an endless, midnight sea
Where I threw their unbearable weight away
In the hopes that I could drown them
So they could never resurface again.
But some days, certain days,
They ripple the blackened paper
And draw the rain out of the clouds
That were supposed to clear away
For the sun to finally shine.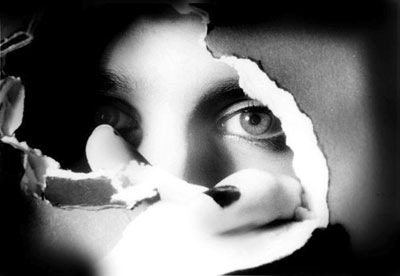 © Tabatha B., Peoria, IL