Frustration
June 9, 2016
She's frustrated
Because every day she thinks of him,
Every day.
She's certain she doesn't cross his mind
While he tramples through hers with impunity.
How can this be fair?
But after him, she writes like crazy
Because he always kind of shrugged
Or told her it was horrible,
So she writes faster, furiously,
Spilling ink across the page when her hand bumps the bottle
As a drunk might knock over his wine,
Stopping for a moment to marvel at the accidental artistry.
And she writes because he didn't take the memories with him
And she wants them to leave her head;
And because he thought so highly of his own poetry –
His poetry, a jumble of mellifluous gratuitous words
That never made people feel anything but amusement at his pretentiousness,
While her writing,
This writing,
Is going to make them bleed.
The blood is going to leak, dark and red,
Black and thick and hot, from their mouths and their ears and their eyes
Because of what she says,
What she feels,
And she curls the edges of her paper like a machete
So that should he ever bother to read it
It will tear him apart.
She laughs bitterly though,
Because at least for him it will be quick
Rather than drawn out, the way it was for her
When she returned his I love you and he just said 'Bye'
And his grave became etched on the insides of her eyes in charcoal,
In stone,
So when they ended things she nodded and felt powerful, sarcastic.
But when he walked her back inside
Though all she wanted was for him to get away,
He wanted her friendship, which stung to no end;
And her bitterness overflowed when he finally
Complimented
Her
Poetry.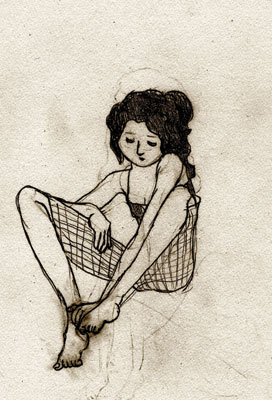 © Samantha W., Albany, NY