The Narcissists
June 9, 2016
There was a man born in a jungle
And he was her dewy eyed king
Who sat on the raindrops and looked at the stars
And painted her pictures of Venus and Mars
He tickled her some days and then made her scream,
Built her all up and then crushed all her dreams
And then he would cry and say sorry again
And she'd stay up at night wond'ring where he had been
She grew up real slow, in a tangle of limbs
Through a mama's gold, shimmering kind,
And when he, the jungle king, screamed things were his
They both turned and they rolled both their eyes.
And his eyes gleamed and glistened in the watery sun
Snapping Polaroids of her smile
And though there were times when she thought he would go,
He stayed for a very long while.

There was a prince who was handsome and smart,
With eyeglasses and words and a porcelain heart;
He courted her softly, while she was alone
And bade her admire his glittering throne
Poetry spilled from his smooth, putrid lips
And it poured like blood over the floor
And he sealed all her protests right up with a kiss
And demanded that she give him more
And then his eyes glittered deep brown and dark green
As he made things his own and then not what they seemed
And his words were astute and his promises bare
And he tangled them sweetly in her yellow hair
And those lips on hers, they were inches away
But the distance was never more great;
For something that she'd thought would never decay
Was gone and then things were too late.
Because Aphrodite, hips swaying, swathed in pink velvet,
Had sauntered quick into the room,
Dancing on poems and a southern sunset,
And weaving an intricate loom;
Her glance was flirtatious, her laughter mystique,
Her artwork a spider's fine web;
Inky and subtle, she drew them in close
And then cut off the little girl's head.
The prince was enthralled and his poems changed course
While his lover watched, helpless and torn,
As the goddess took him off to laugh and to dance
And the little girl knew that she hadn't a chance.
He had touched her with hands cold like marble or stone
Crystalline, hungry, sublime
And he left her with silence, he left her alone
And she cried for a very long time.

There was a man who was made out of glass
How could she know that things never would last?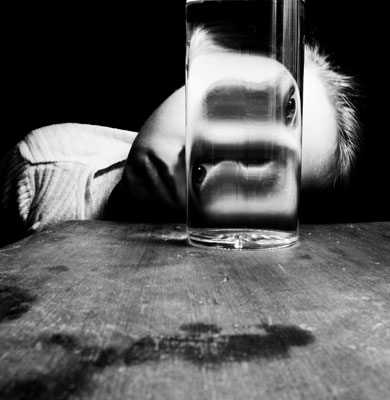 © Sarah M., Blairsville, PA