Paint From An Artist
May 17, 2016
Re-painting my story,
Revisiting my past.
The quite intellegent me,
Long since passed.
Cut down and deep,
With whom to show?
Everyone i've loved,
Has forgotten me and let go.
I thought i've left my past behind,
With the world to show and the sun to shine,
Show my blazing armor from Heaven and Hell,
To my guardian angel who has sadly fell.
From The Garden of Eden to Adam and Eve,
From my broken heart and the deeply implanted seed.
Growing inside from left to right,
With my warrior refusing to not go down without a fight.
I resist the temptation and continue with the pain.
Trying to stay lost,
Trying to stay insane.
I've been sitting here staring at blank empty spaces.
Wishing I had a crystal view of all my lovers faces.
Who I was then and who I am now,
Has built an imaginary wall and drastically changed somehow.
Was it the dope or was it the prostitution?
Or leaving my inner goddess and starting a revolution?
It could've been the lies or it could've been the streets.
That put me in this trance and down into extraterrestrial sleep.
It's taking me awhile to rediscover who I am,
So please understand and lend me your hand.
No strength in my mind, no strength in my head.
All these words i've held in are now being said.
As I re-paint my story, I finally understand.
My past demons are fighting in a mental battle with my future angels.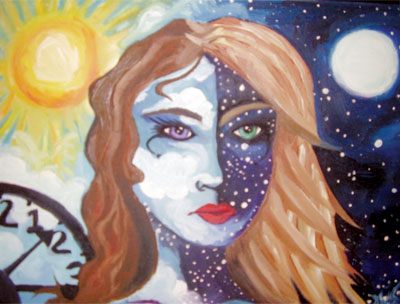 © Amanda S., Attleboro, MA