Alcmene
May 3, 2016
Her eyes were dazzling sparks of ember.
Her cheeks tinged a rosy red
from the struggle of forming words;
words meant to act as knives.
Standing at an ungodly 5'4,
her shadow only bloomed taller
under the unwavering limelight.
One that was very unforgiving of myself.
She struggled so much,
with those words, so sharp on her tongue;
Cutting herself with each
muttered syllable.
It was pain forced between clinched teeth.
And at that time,
apologies were never enough.
She was too far gone,
burning too bright in her despair.
The flames had stood so tall,
I barely held back the tears.
My heart had cried out in its woe
and beckoned to master her fire.
But after, the flames of her fury
died.
The silence that followed
was a worser fate of what we
had once called love.
The unuttered words cut deeper,
hitting all the softer spots.
Especially when night dawned
and you could hear her muffled cries
through the thin walls
of both our empty rooms.
Around 2 A.M., the cries would soften
and sleep would damper her fire.
My eyes would stay open then,
afraid to close to the images that would
haunt me, until the dawn peaked from the
horizon,
and I would hear her silent shuffles.
I watched her from afar,
neither of us strong enough to speak.
She was so pale, but her skin
held only warmth.
It seemed, the chill had consumed what was
inside.
For a woman who's fire that had burned
so bright,
the cold chill was now shocking.
A Siberian Ice Maiden of my past,
I would think.
But the apologies were never enough.
Her eyes were too dark and infested,
infested with the darkness
that I had brought to her once light world.
Her fire had been swallowed by the
Sadness
And all that lay barren were the ashes.
She was too far gone.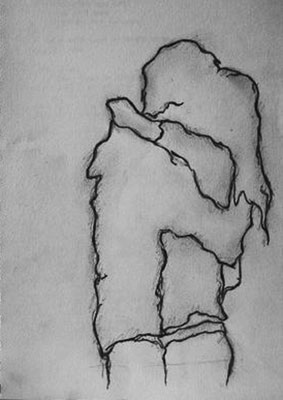 © Nicole B., Newcastle, WA