A Lost Love
April 24, 2016
Three years old
Her elderly, veiny hands, worn from a childhood on the family farm, effortlessly glide across the keys.
My green eyes widen in amazement as I watch my grandma play.
A crooked smile—the kind that alludes to a discovery—spreads across my round freckled face.
I plead for my mom to find me a piano instructor,
a bold move for a little girl with pigtails who was potty trained only a few months earlier.
Four years old
Written words mean nothing,
but musical notes mean everything.
My name, proudly penned across my piano book in blue ink,
is a pair of pathetic squiggly syllables.
Yet, beneath the curled, cracked cover,
I compose my own piece.
Five years old
I play pretty well,
or so my mom says.
I step onto the stage,
my shiny shoes clicking against the wooden flooring.
Within moments, I sit on a bench in front of a grand piano,
a position that spotlights me
with warm rays pooling in through a beautiful stainglass window across the room.
My small, pale hands carefully connect with the keys,
and I allow the music to break
the silence.
Six years old
When I am given a new composition to practice, I expect myself to perform perfection.
The slightest mistake results in self-inflicted rage.
Nothing is more painful than the notion that the thing that you love is
tearing
you
apart.
I cry for two consecutive days.
Then, I turn the switch.
I do not look back.
The piano sits in the living room.
I do not talk about it.
I do not touch it.
I never play again.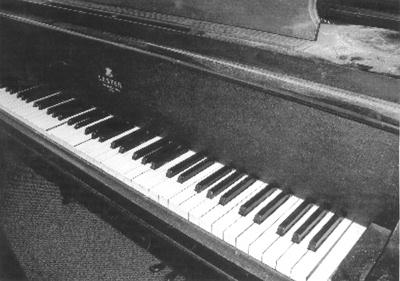 © Katie Q., Milford, CT