I am a Pencil
March 30, 2016
I am a Pencil.
Scaring the paper with my scratchy movements.
Sometimes I am too light for the paper
Being too faint and afraid to leave an impression.
Sometimes I press too hard, cramping my writer's fingers,
Wasting lead.
I am constantly sharpened.
Being slowly chipped away until there is nothing left.
I constantly erase.
Desperately trying to take back everything I've ever written.
I erase, and erase until there's nothing left of me
Until my pink hat is gone. And when it's gone
I'm thrown away, or broken for my writers benefit.
I'm bitten, abused and chipped away.
Sometimes I have colors imbedded in my skin.
Sometimes I'm changed from my normal yellow skin into a plastic covering.
In this covering I am bare, my lead having been stripped from me until my writer deems it fit to give it back.
Trapped inside a mechanical beast.
I am a pencil, but I wish to be a Pen.
Nevering having to erase, or be afraid of marking the paper.
Being ok with my mistakes and not forced to take everything back
Being harder to break and exploding if I do.
Not scaring the paper, but to dance across it.
To no longer be sharpened until I have nothing left to give.
I am a pencil. Who wishes to be a Pen.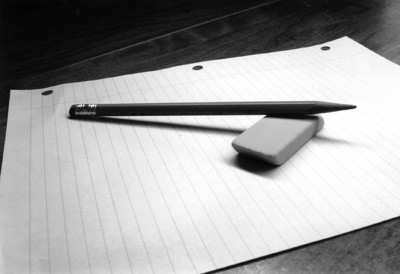 © Michael H., Mildford, CT