Frozen Footprints
February 13, 2016
Crunch crunch slide squeak
Crunch
My feet go,
Leaving their shapeless imprint
In a frosting of angels' tears.
I am like any other person:
Leaving my mark on the world,
A trail of the places I've been
And things I've done.
But my footprints are hardly discernible –
Or recognizable –
Beneath the hundreds of other people's imprints
Identical to mine.
Crunch crunch slide squeak
Crunch.
The routine is almost unbearable,
But society demands it.
I march past a red barn
And hope I notice something
That no one else has (unlikely of course),
Like the lone goose atop the roof,
His neck stretched longingly to the south
But unable to be anything more
Than an out-of-place weathervane.
I suppose he's just like me;
I just don't belong,
Like a goose amongst c***y roosters.
Crunch crunch slide squeak
Crunch.
Slender, graceful foxes hide just beyond the treeline.
They have not fully molted into their winter coats;
I can see patches of brown bark
Beneath their snowy white disguises.
I envy them for their ability to adapt;
Just a simple change of colour
And suddenly they fit in.
Crunch crunch slide squeak
Crunch.
If only my footprints weren't so large;
Maybe an untouched space would have been left.
I look for the timid imprints of animals,
But I can't find them
Beneath the conquering craters made by people.
I know that the creatures' marks are there,
Somewhere beneath the muffling steps of humanity.
I wish I had the footprints of a squirrel –
Oh-so small and light and harmless.
And even though it means
That the foxes would hunt me,
I still wish I had the footprints of a squirrel.
Crunch.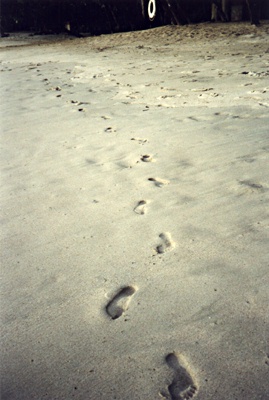 © April W., Rogersville, MO