Forest Library
MAG
February 4, 2016
I am an author of the forest,
A poet writing in the depths of the earth.
Pages of loose leaf
Hang off my branches
To be written on the wind,
Veined by lines of poetry
And stained with the ink of nature.
Pointed pencils grow off my limbs,
Their sharpened tips cutting the air
And writing mythical tales in the breeze
To be swept off to unknown places.
Beneath the ground lies an ancient library
Built into a cavern of my aging roots.
Tomes and volumes filled with moss
Are stacked on mushroom shelves,
Ivy bookmarks peeking between pages.
Jars filled with scented herbs
Crowd tables scattered with parchment
And books sprout in the sweet-smelling earth.
All around, fireflies glow quietly
Like nuns carrying torches in a monastery,
Their eerie, haunting luminescence
Revering the musty, sacred silence.
Ghosts shadow hushed corners
Where their own dying stories lie open:
Once-magnificent novels crumbling with age
And reduced to mere decompositions,
Their pages woven shut by mycelium
and cobwebs.
I am the caretaker of this graveyard
Where the headstones are books
And the flowers are mushrooms and lichen.
Memories and knowledge weight the air,
Forgotten wisdom flowing from the roots of time
And into the mystic haven that I am:
This secluded, long-lost forest library.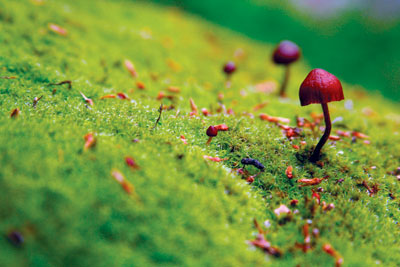 © Lyndsey B., Lake Isabella, CA