Acceptance
MAG
January 18, 2016
Accusers eon, wash each thought in despotic
porcelain cracks,
yet deem me martyr, firestarter; shave my tongue with each attack.
Sink a blitz to every ventricle that pumps my veins,
then swing my wrists from knots and twists for every eye to feign.
When sugar drips in every word and honey lines my hugs,
wherein stings malevolent things; wherein lies
the rub?
If all I wish, from death beyond, is happiness
to shroud,
sunken lies accursed my eyes when you'd
only confound.
I dare not speak like corpses sleep. I dare not
fight the fade.
But do I dare, like animal snares, to try
and drift away?
To want is one, and two's to dream, but actions risk a third,
but want's been gone for eons long.
Is self-service absurd?
I used to think I was too far gone; my mind
was calloused cold,
and guilt was wracked like pushpin tacks in
every mental hold.
And yet, for every path of glass that's shattered
at my feet,
heartache burns to dimmer churns; my soul
repels defeat.
I've moved to flower fields that stretch for miles, tall and wide,
and at their core, a maiden borne of light
and joy resides.
She whispers honeydew in feathers; cups my soul in hand,
and at the lows of despot throes, she knows and understands.
Before, horizons bled in colors taken out of space,
but temporal flow caressed their code and
brightened every day.
And now I stand on a throne of words, the
maiden close at side,
and each and every hope is beating hearts
to the sunrise.
I feel it in my marrow and veins.
Everything's alright.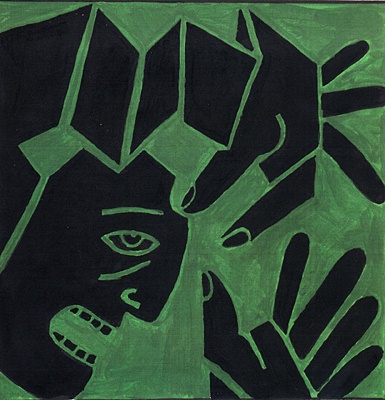 © Hilary L., Oakhurst, CA