Princess of the Night
January 18, 2016
I am a princess of a place unknown,
Yearning for the carelessness of a dance
Amidst my dark and heavy life.
A fairy godmother came to my rescue,
Promising me a night of freedom.
She made me a gown of midnight velvet,
The fabric scattered with twinkling jewels
And the skirt spread across the sky.
A large pearl adorned my neck,
Casting a glowing halo upon the world,
And a thin veil of mist shrouded my face,
Lest I be recognized and sent away.
So I went to the masquerade ball
And paired up with Orion to waltz,
My ebony eyes starry with delight.
I danced away the night of its stars,
The sparkling diamonds on my gown
Spinning across the horizon
And slowly fading away into the minutes.
All too soon the night was over.
It dawned on me that I could stay no longer
So I took my leave as swiftly as the rising sun,
My skirts lightening with each step.
The jewels upon my gown slowly disappeared,
And I waited in the silent morning
Until at last, I too faded into the sunrise.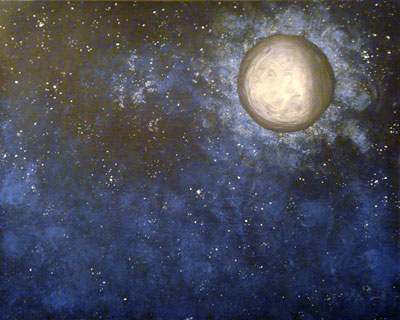 © Allison H., Vancouver, WA