Ode to Ziggy Stardust
MAG
January 11, 2016
I cannot promise that you will hear him
in the same way I have.
Though he has returned to the stars,
that does not mean his voice went with him.
When the shadows stop stirring,
he whispers from the corners of the sky,
telling the tales of his time on Earth.
Somehow he managed to reach us,
he wasn't the God we were looking for,
but he made us believe that his hipbones held the
answers to the universe.
Broken, battered wounds covered in glitter
and scars encrusted in diamonds,
we tuned into channel two in the hopes of
finding salvation in his voice.
He wailed on stage and reached down to
grab our hands,
delivering us from Suffragette City.
We were all hooked on stardust and
I do not think anyone really minded.
It was in every breath we took and even now,
I swear I can still feel it in my lungs.
Some nights, I still hear his guitar
(and damn, could Ziggy play guitar).
He came to Earth when we
needed him the most,
so I can only guess he left to explore
a planet that needed him more.
While we all yearn for him to come back,
I am positive of one thing,
He never really left us,
We're not alone.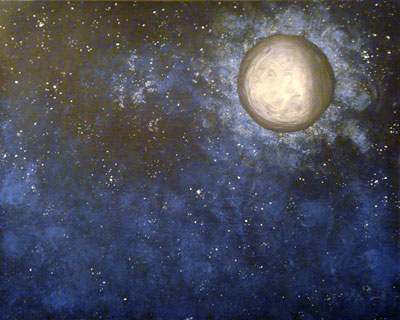 © Allison H., Vancouver, WA