Timekeeper
December 18, 2015
My heart is a tired, broken clock;
My face is covered by my hands
As they count down every minute.
Each day my hollow heartbeat
Fills the empty house I live in,
Never forgetting to chime out
The new hour to any shadow
Or ghostly memory willing to listen.
My efforts are in vain though:
Everything but the dust
Ignores my tall existence
Here in the forgotten corner.
My ongoing life is timeless,
Marked only by each second
That echoes out in the silence.
My immortality was born long ago
Of a tree, shining gears,
And the loving, careful hands
Of the clockmaker who made me.
I have seen ages pass;
I have seen the infamous time
I so carefully measure take its toll,
Wrinkling once-bright childhoods
And filling crumbling graveyards.
But there was one thing left behind,
One thing that time couldn't touch
With its thieving fingers:
The memories.
The memories stayed behind,
Hidden in the numbers upon my face
And filling each of my hours
With remembrance and nostalgia.
So I continue to faithfully tick
For the people of the past,
Lest they call the clockmaker
Who created my mechanical heart
To come fix my rusted gears
And set me back into timelessness.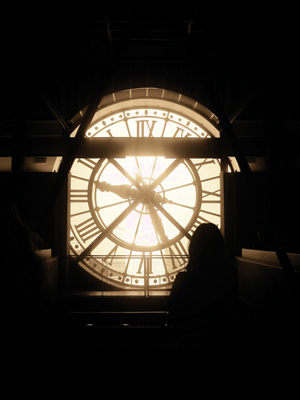 © Treza R., Kalispell, MT