Pier 39 and the Human Condition
December 8, 2015
The child.
Hot tears stream down his face
As shouts reverberate along the crowd.
By the red tips of its ears,
And the acceptance of a scrape
From cold metal bars,
The child
Will hastily disappear
Not in the likes of fog,
But of smoke.
The waiter.
Observes the second hand on his watch
Through cigarette smoke.
He does not see
That the sun has arrived,
Churning the frigid bay into an emerald brew.
What he does feel
Is the cold air on his nose,
And the tense vibrations of his right hand.
The waiter
Ponders
The solemn, minimal, precise fingers of
A watchmaker.
The mother
Flicks breadcrumbs off the table.
The light bouncing off
The silver of her watch
Only reveals more imperfections on the
White tablecloth.
The mother
Raises her hand,
Yet turns to see
A wooden sailboat gliding over
Waves of green.
She notices how
Its white sails
Still bend to the swirling winds.
The vendor
Still gazes at his kites
With the amazement of a child.
He counts the seconds
Between the fast and slow pulses
Of wind currents.
Although money flows in the same manner,
The vendor
Is content
With surrounding himself with
An abundance of rainbow pattern.
The father
Rips off the sweat off his lips
With rough hands,
Gathered by the huffs of hot breath.
Bustling through currents of the crowd,
Dodging the brightly colored signs,
He makes his way through
Pools of steam from warm pasta,
And the ashes of cigarettes.
He sees the ocean clearly,
Shaking as if he was a shark
That lived in the depths below the pier
(Or trapped in the dim aquarium nearby).
The father
Is drawn to cries
Of discontent,
Only to find himself
Staring at a heap of sea lions,
And his own wheezing.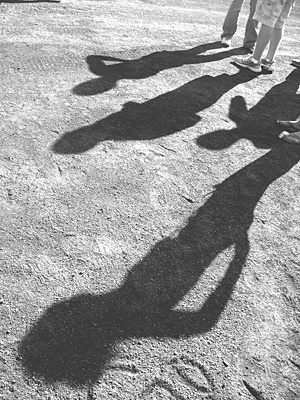 © Trella R., Mountain Lakes, NJ