Paint This Picture
October 26, 2015
My heart aches, my tears fall
I felt compassion once but I let go of it all
Every night, before I sleep I feel myself begin to weep
I want to climb out of this hole I created for myself but the walls are too steep
And here I am stuck to flounder in this muddy hole within a trench created by my own hands
Fighting a war among myself, creating my own wastelands
So looking in the mirror, what do I see?
The reflective eyes of a monster staring at me
It whispers and tells me that I'm far from picture perfect
I took this as criticism instead of disrespect
And with a marker and knife I began to imagine how perfection is seen
Drawing lines in which I would cut and sew the seams
Perfection will not be easy to attain, for it would take time to grow thin
Making sure not to eat food at the places I've been
But they try to make me eat, try to keep me fat
Saying, "Working out will get rid of all that."
But that's a lie, the gym has only given me the weight of muscle from the bench press
Same with the sport I play, it only adds to my distress...
So if I can't starve it out, I'll cut it instead
The only thing I cannot fix is the shape of my head.
Oddly enough that bugs me a lot, for I hate the shape of my face
It's disturbing and with all the pretty girls around, it does not fit into this place
So here we go, wish me luck
I fear this pain is going to suck
For I have a lot to carve to get a body like the barbie doll.
So much flesh, fat, blood and body will fall.
Now that my towel is crimson and my fat is gone, I suppose it is time to stitch myself closed.
Once ugly like a cow, now almost as pretty as a rose.
Oh my, maybe I cut off too much. It seems that I've bled more than intended
So I guess I can tell the difference that death is serious now but before he had only pretended.
Now he takes me beneath his robe and walks me away from my painted picture, leaving a mark upon my shrivelled heart
Not even letting me give my new body a proper start.
So it wasn't meant to be from what he has made clear
To have a life of perfection, I fear……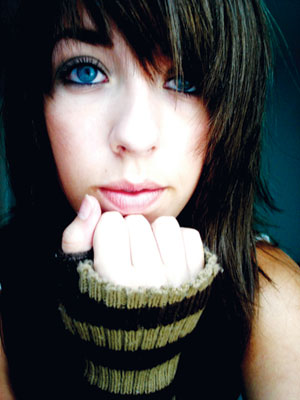 © Brit H., Peabody, MA