The Swing Set
October 13, 2015
It sits in an overgrown corner of the yard,
Ignored to the point of non-existence,
Yet there it is, creaky but functional
And awaiting someone to come sit and swing.
Long years have passed since used,
For the once-innocent children who loved it
Have grown up and forgotten their old friend,
Who laughed along with their giggles of joy.
It had accompanied them on their adventures;
Its wooden seats had been the pilots's chairs
As they flew through their sky-blue imagination
And up to the fluffy white clouds of childhood.
Now it waits patiently to be remembered,
Too old and grey to give away to a new family,
But too full of memories and emotions
Hidden in the dusty frame to throw away.
Nostalgia binds each heart to the swings,
Gives them a chance to remember how to fly;
Soaring up and stopping time for a split second
Before rushing back to reality below.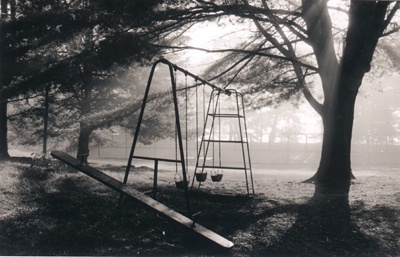 © Steven S., Marblehead, MA