Who Am I?
October 6, 2015
Who am I?
It seems like such a simple question,
And in all honesty, it is.
The challenge comes in answering it.
Because the answers come in layers
That must be unraveled
Like a ball of yarn.
Who am I?
In kindergarten we drew self portraits,
And we filled out worksheets
That told the world "All About Me."
My hair is blonde, my eyes are blue.
I like the colors red and gold,
And I love to eat chocolate.
Who am I?
As we got older, we developed hobbies.
"We are defined by what we do."
I like psychology, so I'm a nerd.
But challenge me to a riveting game of Clue,
And I'll read your mind and win the game.
So I guess being a nerd has its perks.
Who am I?
Well, I like to think that I'm a musician.
My fingers dance across keys of black and ivory,
And I smile as sweet harmonies
Fill the vacancies of the room.
I believe music is heard with the ears,
But felt with the soul.
Who am I?
I choose to be an optimist.
Because life is too short
To spend it without a smile.
I laugh at simple things
Because I love to laugh,
Simple as that.
Who am I?
I am a fighter.
I have struggles, just like the rest of humanity.
I'm not perfect, but I'm not a quitter either.
Who am I?
I'm a loving sister and a loyal friend.
Till the very end of time,
I will stand by the ones I love.
I believe in a God who believes in me.
He is my anchor, my light, and my friend.
In His strength, I CAN succeed.
Who am I?
I am the person I choose to become.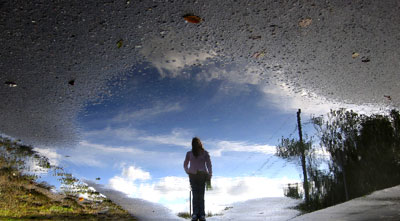 © Daniel H., Oak Bluffs, MA