A Glutton Fir Punishment
September 10, 2015
Yes, I
Noticed that you grew a beard as soon as we broke up
Even though you refused to when we were together.
And yes, I noticed you
Basically went incognito online and I hate it because
I don't know what or how you're doing and
Yes I could just text or God
Forbid call you but the digital age doesn't have
Time for that.
I wish you didn't tell
Me that the friendship bracelet I gave
You fell off your backpack I wish it didn't bother me you kept it there.
Why am I still writing
About or to you,
I don't feel much for you anymore.

This isn't honest feelings this
Is regurgitated lines about
The only
Tragic Love Story I've never had.
And I don't know how to write about what happens when I'm happy,
So I'm stuck with stupid poetry with messed up spacing about
A boy I haven't talked to in maybe eight months
And the last conversation wasn't
Really an important one. I don't know
I found your sweatshirt yesterday so you've been in the very
Front of my brain right above my
Eyes and maybe if I wasn't
Taking that new medicine, you'd give me a migraine.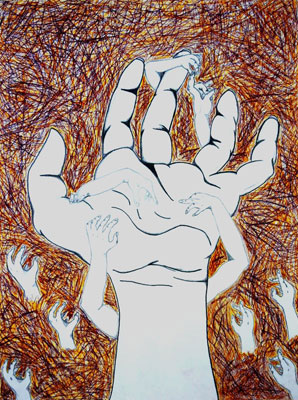 © Ariana R., New Orleans, LA