Do Not Look At Yourself With Disgust
July 8, 2015
"Don't look at yourself with disgust, you are a gift to this earth…"
I put my phone down and shift in my bed.
I look at my hands.
My nails are painted metallic green.
I had gone into the store and mistaken the green for silver - I had wanted silver - and found out when I got home that the polish was green.
Now, the polish is tarnished and fading, like a weather-damaged, stripped barn door.
I had gone back to the store, found a real silver polish, but had decided not to get it at the cash. 
The clerk had raised an eyebrow, made me feel small:
"It's two dollars. You don't want it?"
I turn my hand and look at the inside of my wrist,
the blue-purple veins criss-crossing, twisting, turning  underneath ivory skin.
The inside of my wrist is so delicate,
the veins so dark,
I feel as if I could tap on it,
and the skin would crack and crumble away, revealing a hollow.
The veins spiderweb across my palms, pale skin marked with deep palm lines.
These hands have built, created, climbed, carved, pleasured, comforted.
There's a scar on the inside of my arm,
shaped like a pin – a thin line with a dot at the top – from a cat scratch.
Further up my arm, the tan skin ends and light skin begins
– I wear t-shirts too often, maybe I should wear crop tops instead – 
and there's a brown splotch the size of a dime,
people always think it's a burn, but it's actually a beauty mark.
I wanted to get it removed.
"It'll leave a huge scar, bigger than the mark"
he had said, "Many famous, successful women have had beauty marks."
Lying down, I can see my chest, stomach, thighs and knees.
It would almost be nice if my breasts could obscure the view of my body,
but instead they pool on my chest, underneath a faded green tank top.
I can feel my heartbeat thumping in my chest,
smacking against my ribs like a water balloon against a fence.
I place my hand on my abdomen, feeling my body expand as I breathe,
feeling my lungs fill, my body seemingly filling the room, 
forcing myself to take a deep, deep breath.
I pinch the fat right beneath my belly button.
I neither hate what is in my hand nor love it.
The skin on my stomach is burning hot, my hands icy cold.
I lift my shirt up so some cool air can get there.
"How many sit-ups can you do?"
Right on the inside of my thigh, there's another beauty mark.
It looks as if someone took ink and spilt it onto my skin,
the brown colour bleeding into my pale skin, curling and curving
until it can't be defined as a real shape or object anymore.
You can see the veins in my thighs too,
from the little crooked purple ones,
to the fat green and blue ones that pump blood like freight trains.
The veins disappear at the curve of my knee, the fat there,
the unshaved skin, full of long blonde hairs,
going from large thighs to the calves I've spent ages
crunching, toning, thinning, strengthening.
"Oh, she's gotten so … big now."
I can't see my feet or my face.
If I could see my face though, it would be green eyes,
pale skin, freckles and acne scars dotting the surface,
unruly eyebrows and spares lashes, full lips
with maybe a bite mark or two,
a sheen of sweat on my nose and forehead from a night's sweat,
especially under my bangs.
"I don't think we have a colour in stock pale enough for you!"
I go back to my hands,
the ones that turn a deep red colour whenever I get cold or embarrassed.
The ones I hide under long sleeves or behind my back.
"Why do your hands turn red? Are you sick?"
"…You are beautiful, you are a light, an energy, an essence. You are nature herself"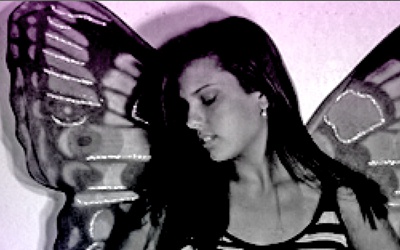 © Kathleen M., Rowlett, TX