I'm Not Lost
MAG
June 18, 2015
I wouldn't say I lack a sense of direction …
out loud, that is.
But I don't get too lost,
just enough to call it a day,
to make it a memory
of a laugh and not a tragedy.
You see, part of me enjoys
the causality of getting lost.
I look around, see a tree, a squirrel,
a squirrel going up a tree.
I would have missed that
had I reached the park on the first try.
Funny story:
I got lost going the doctor's office. I ended up by a cemetery.
I hope that wasn't an indirect message.
But I don't think I'm misdirected – I'm headed where I have to be.
I don't know the path I'm pacing until I look behind.
Right ahead is the world I'm facing, like a soft-cheeked baby, for the first time.
I have no thirst or hunger, but I do have time.
So what if I get a bit lost every now and then?
"Then" usually being the moment directly proceeding now.
If it's meant to be, I'll reach my destination when I must arrive.
But each step I take is part of the story.
You could say I'm lost
but I know I stride down the road that was built for me.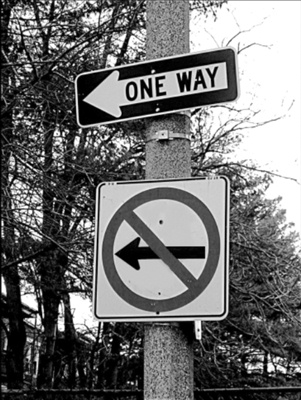 © Maria B., Boston, MA