Right Before My Eyes
April 12, 2015
I knew you for long enough,
And all along I ignored you;
Me being the least of nice people.
I would try to find the "perfect" boy;
Always complaining when I didn't,
And I couldn't find out
Why I was so lonely.
As time went by,
I learned about what I should want,
And I looked for it in boys,
But none of the ones I met
Were sweet, kind, gentle, caring,
Respectful, or good at heart.
This made me confused,
And even more lonely,
As each guy I met was a player.
Then I started talking to you again,
And unknowingly and unintentionally,
You found a way into my heart.
Slowly, I got a strange feeling.
At first I called it strong friendship:
That I cared a lot about you.
The caring got stronger over time,
And I called it friend love.
I denied every chance of more,
That their might be something else
That I felt for you.
I ignored my heart,
And because I ignored it,
I couldn't protect and watch over it.
Then it hit me all at once:
All the hurt, the loneliness,
The forgotten love, the caring.
It had taken me more than two years
To find out that the "perfect" guy
Had all along been
You.
And in my stupidity and ignorance,
I had lost the chance;
It was too late.
You're heart was taken while I was blind,
And now all I can do
Is try my best to silence my heart,
And make up for my years of carelessness.
So close, yet so far away from me.
The pain of regret is torturing,
For you are too distant now.
I can never reach you,
Even though you are here.
I can never catch up to you,
Even though we still speak.
And I can never see you,
Even though you are here:
Right here before my eyes.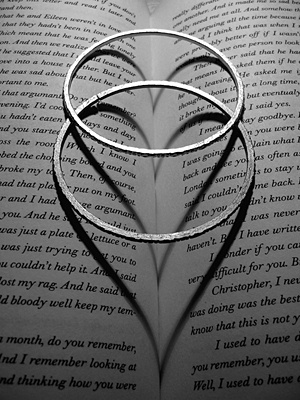 © Julia K., Old Tappan, NJ