Ethereality
March 21, 2015
I lean upon the railing,
Of my balcony in outer space
Just outside the suite
Where scarlet embers heat the aura
and my sister burns the socks I lent
while my brother shivers under
layers of blankets
Yet I, departed from their world
besotted by what the retina captures
There exists no horizon
For I see stars below
And I see stars above
courtesy of the absence of power, my eyes
see clearer
as street lights do not blur
the twinkling bodies glow
And in the back of my head
I know, the lights down there erasing
the horizon are homes and windows and
warm candles and
fairy lights and lamp posts and souls
and dreaming children
that the Sandman and Jack Frost
are playing around with.
The moon is full and the sky
is full too.
Though the first of white and gold embers
And the latter of jet black and navy blue and
Even streaks of royal blue
And wisps of grey around Remus' boggart
As if twere emanating Dust.
And trees hang over the view, so caringly
– that resemble Treebeard (The Ent) but
He's more aged (if that is possible)
as his arms and beard are speckled with snowflakes
and yet although he seems
he'd shiver and
end his slumber at any instant, I am not afraid—
And snow, I –just out of sight—
Felt
But how?
Crunching underneath my red sneakers
And spread around the air
It would be glossy in the dawn
and the blazing glare of
the sun.
Be as it may, this is beautiful,
Blue-ish white in the
Moonlight
The endlessness of stars leads me
to reminisce
of our airplane sojourn some months ago.
Evading a thunderous storm
Oh how above and below,
Was just the same and
How infiniteness filled me with ecstasy
Out of the trance as my feet are numb
I step back out of ethereality.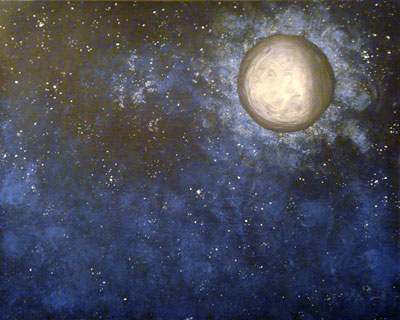 © Allison H., Vancouver, WA