Striped Insanity
March 26, 2015
Sitting home alone in my striped socks
Swinging my feet back and forth above my bedroom floor
There's no one but me and my striped socks
Looking down over my bedroom floor.
Mommy died, Daddy went away,
Don't have any friends that want to play
So I think I'll build my very own castle today
In the middle of my bedroom floor.
It's only me and my striped socks
Stacking pillows on my bedroom floor
I've found a friend for me in my striped socks
And our playground is my bedroom floor.
Lights out, flashlight on
We'll keep playing till the break of dawn
Till all the last rays of sunlight are gone
In the windows shining over my bedroom floor.
I became royalty with my striped socks
Built a kingdom on my bedroom floor
Addressed all my subjects and my striped socks
In the dark on my bedroom floor.
So if you ever chance to open my bedroom door,
This is what you'll find:
A fairy queen in glory on her courtroom floor,
Remembered in no one's mind.
She was left alone on the cold asylum floor,
With her striped socks on and far from fine.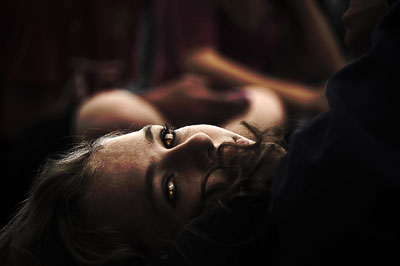 © Calvin C., Salt Lake City, UT