Stratus
March 9, 2015
Look.
See.
See the sun sink.
See the moon rise.
See the Fabergé dome of the skies and see,
See the gaudy cosmic bling, see the cities of the heavens busy in the night,
Watch the satellites murmur their correspondence across the shimmering void,
See the florescent moon. See the blue world awash with the color of stars.
See the glittering iris of God as it gazes upon the earth.
See.
See us gather now, see the opalescence dim.
See us, satin in our silence, a celestial curtain, smooth like silk
Sighing to the world in our quiet darkness,
"Sleep."
We are the seas of the air,
The child of the wind and the waves, incubated in the warmth of the sun until our vaporous conception.
We are the breath of the earth, steaming in the stratospheric chill, we are the dewy shroud of the earth, high above the mountains of the earth,
The mountains of the sky.
We can tempest when we gather, yes, we can lash the earth with our perilous fury,
Our wispy tails thrashing the ground, our plasma whips cracking the air
Into splinters of sun, our angry tears flooding the shaking land, cooling its fires in mercy.
See our might. See our grace. See the green wake of our wrath.
See.
See us gather. See the clouds roll in.
Now is not the time to rage. Now we are indigo sheep, slow and solicitous,
Count us as we move across the sky, blot out the hectic yonder with blue black calm.
We are the blanketers, we are the quieters, we are the sleep bringers in a frantic world.
See.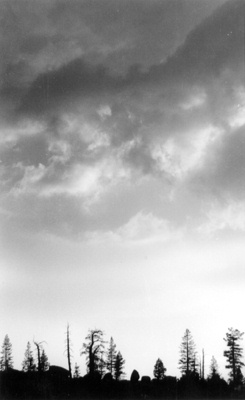 © Steve S., Marblehead, MA