Mermaid
February 17, 2015
Brackish foam wracks the disheartened shore
the undulating waves acknowledge their triumph,
relenting for an instant
before returning to drown the sodden sand.
Placidity which would seem so
strange to one who observes the
mounting swells and churn of briny lather,
does not appraise it through
the eyes of a creature beneath the surface.
Hollow, hue-less,
despairing for the sake of her own desolation
The she-creature extends her puckered arms,
devoured by the unfaltering salinity of her dwelling.
So many moons
Moons that fell and rose,
bled and wept,
ones that crumpled in fear of the sun.
She tasted moon blood on her tongue and yet,
they were pennies in a pond;
unavailing except for the worth of a wish wasted
The woman regards several strands
of seaweed caressing her tail-
Sustenance is valuable, and perhaps time is too--
Such depends on the substance one is inquiring after.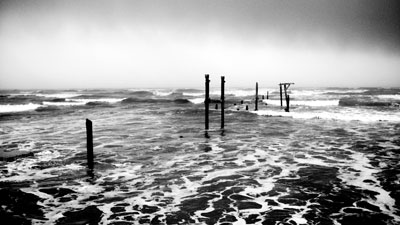 © Harrison L., Ruston, LA