Seaside
January 20, 2015
Somber sea waves on a slate-grey morning,
I bundle up tight –
All my heaviest fears and hurts
Fold them fondly
And with soft touches
I set them off to sea.
Slow rain drips from my long hair,
The tip of my nose, my eyelashes
Soaking clothes hug close
Clinging to my warm skin.
The slate sky folds into
Grey waves.
I lay my heavy bundle down
In a little ship
Made of twigs, and tears, and forgotten things,
Sliding it out into the warm water,
I taste ocean salt on my lips.
Turning away,
I know the small sails
Slipped and folded,
Under the first waves.
Turning away,
I can feel the sunlight.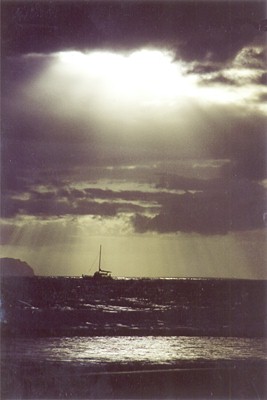 © lily H., Kekaha, HI