The Eiffel Tower in Fall
November 26, 2014
metal has never looked so glorious
under the plumage
of fall, of the slow drunken
passing of time,
crisscrossing like the hands
of old lovers
being slowly pulled together
by the fingers of an unknown
puppeteer.
a shroud of mist clutches
at the rain-studded silver and through
the fog, the lamp posts look like
orbs of glistening fruit.
sleepy rain drizzles lazily
onto the sidewalk, gently
streaming down the faces of the mother and
the boy with the shiny red truck.
"mon enfant, mon enfant, pourquoi est-ce que tu dois devenir?"
becoming is
for poets and men who tie knots
of silver ribbon around their ring fingers.
the iron giant shivers in the cold,
and through the emptiness of the
autumn afternoon,
it appears to be crying, tear drops
sliding down its surface and pooling
at its arms.
"Le Tour, qu'est-ce qui ne va pas?"
"La solitude. Óu sont tous mes gens?"
and even the boy could not answer that question,
and Napoleon came and went,
and cities rose rand fell,
and still the tower wept.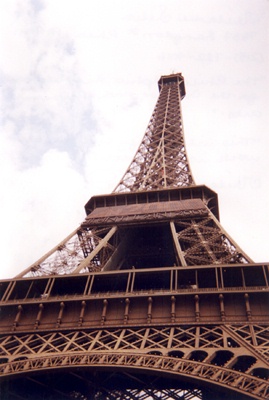 © Melanie S., Philadelphia, PA