I Am Not Expendable
November 19, 2014
Steve says happiness is a part of life? at least as much as sadness is-?    
hopefully-?            
he hasn't quite figured that part out yet ?       
'you have to try to work with the essence of moments,
?just something to capture'   ?
he says he's been subscribed to being an absurdist like ?incongruity is the basis of himself as a whole ?           
'I like to believe that I can see both sides to things       
and still care ?that I can laugh while I cry ?       
and have that be all right'
I want to know Steve until I die he is a galvanized guard rail ?    
not really getting damaged in sleet and hail anymore-?     
the damage is hardly noticeable he weathers storms like he knows when they're ending ?and that is a quality I will always be envious of he says he has learned ? 
emotion usually isn't just one feeling its usually all kinds of them?     they're all important like ?         
key parts of staying insane in a world that wants you to make sense?    'do you know what I mean?' ?       
essentially you should take all the things that make your hands shake ?   
and push them into secondary concerns like things you can say you'll eventually get around to ?while your feet are on an ottoman and your hands behind your head ?  
you have to figure out how to enjoy awful situations ?      
mostly through highly developed senses of irony and I guess ?     just having fun?
while knowing you're entirely lost
and until I met Steve I associated smoking cigarettes with people ?     that just didn't care about themselves ?       
always flashing back to my mom telling seven year old me to hold my breath when leaving the grocery store and passing the smokers on break ?    
now I see it as some type of bravery like saying ?      
everything else in society is changing so much ?      
why the hell can't smoke start belonging in lungs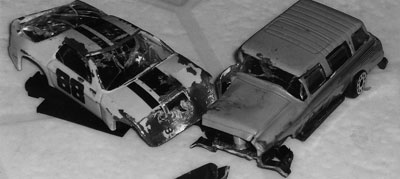 © Danny H., Chula Vista, CA