Insomnia- I can't sleep
November 19, 2014
I can't sleep.
I look up at the ceiling, mentally tracing every shadow, wavering on the white canvas.
I can't sleep.
Alone in the dark, except for the monsters under my bed and the demons inside my head.
I can't sleep.
Thoughts sunk in the deepest recesses of my mind submerge.
I can't sleep.
The clock ticks on in monotone, water drips slowly, a whole lifetime has passed.
I can't sleep.
I have come to dread sheep. No matter how many I count, there are always more, just when I think I am done.
I can't sleep.
Am I the only one alive? I screw my eyes shut, willing them to turn leaden, willing myself to unconsciousness.
I can't sleep.
I turn my pillow over and over, seeking that one cool spot, I will never find.
I can't sleep.
I get out of bed, only to walk around in a stupor and wearily, helplessly, fall back in.
I can't sleep.
I go to my "happy" place- my happy place gives me nightmares.
I can't sleep.
Guilt, regrets, doubts, swirl out of the dimness, I try to remember but the memories are just out of my reach.
I can't sleep.
I replay conversations in my head, word for word, again and again and again.
I can't sleep.
I scream until my throat is raw, beat the pillow in frustration and finally, exhausted, submit.
I can't sleep.
I calm myself. I lie down. I close my eyes, my mind a calm pool- thoughts blossoming like ripples spreading outwards.
My eyelids turn to stone, I drift into the unconscious bliss so many take for granted.
I CAN SLEEP.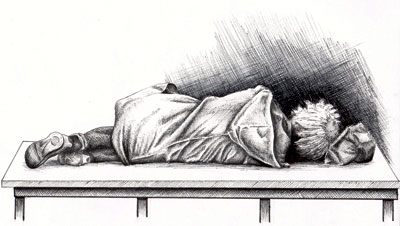 © Devin N., Sherrills Ford, NC