The Words I Cannot Say
November 1, 2014
"You hit the nail on the head, girl!"
"Just what I needed to hear!"
Cliches floating through my head,
But you know, they gotta be somewhat true.
I read your words,
And they puncture my heart, swim through the emotions
I tried to bury beneath black oil floating on the surface
A nasty cover for a nasty truth.
Can't tell you how I feel.
Too many people watching, waiting for a hole to open.
Can't clean up the oil,
Can't expose the crystal water
And the seabed beneath.
Guess I have to settle for diving in,
Holding my breath,
Let the oil close up again
And cover the sea with a black blanket, curtains on reality
While I swim deep into the truth you've exposed
Cool water easing around me,
Soothes my wounds,
Draws me to the beauty of that hidden ocean
Your words slowly let out the pain
Bring it to life
And you start to fix me.
You know, maybe I'll clean up that oil someday.
Start from the ocean underneath,
From your words, and swim up to that black curtain
Pull it aside and emerge.
Excalibur from the oil
Bring up my shield
Prepare to fight the demons
Speak aloud
Words I cannot say.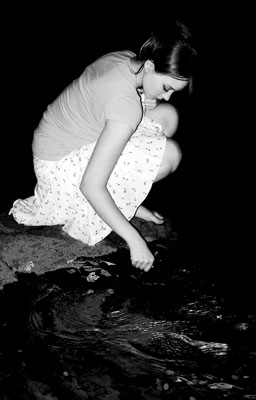 © Michelle B., Blairsville, GA