Forget You
October 7, 2014
Forget her?
Of course I forgot her,
Why would I want to remember someone who wore a free hugs shirt yesterday,
I won't lie though, I wanted one,
It used to drive me crazy when she acted like she wanted to fight me,
How she would put her hands in my face, those soft, small hands,
Know what else I didn't like, how her hair cascaded down like a slinky on stairs,
Going on and on, ever since you decided to stop cutting it, April 3rd, 2014, 8:27 PM,
I really hated how I would tell a joke, and you would laugh,
And after the laughter died down, you'd smile for a couple minutes more,
Don't even get me started on your hugs, how you would smell like, lavender and anxiety,
As if once you let go, you would never get another,
I can't believe I let you wear my jacket, every time I got it back, I hated the smell,
So much, that I, wore it to sleep for two hours, yes only two, the other hours were spent thinking of ways to get you to wear it again,
Forget her?
No, I tried.
And like the opposite of a bright day, the dark night rises,
Not even Bruce Wayne can rescue me from my pain,
The bruises lain on my arms and in my brain,
Have me sitting up all night locked in a daydream where in the distance there's a train,
The tracks lead right to me, but my composure isn't swaying,
I tell myself this isn't real, yet it feels so realistic,
By now the train has hit me, and I taste not blood, but lipstick,
Broken out of my trance, I find myself in tears,
Over a girl I've been trying to forget about, for the past eleven years.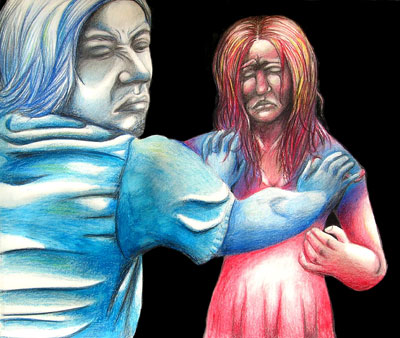 © Jessica P., Bethel Park, PA