Numbness
September 2, 2014
She couldn't feel a thing,
But then again she did feel something.
Numbness covered her body in fuzzy pin-pricks.
She didn't like the emptiness
She hated the cold darkness.
She didn't wanna feel awkward without any feelings.
Only one thing kept her like the others
and she took the chances she could get to use it.
Taking a knife and carving into her skin.
Nobody has ever seen nor thought she'd done it.
But, she has.
I was blind to notice.
Every day she smiled, she laughed, she even got a little angry.
I thought she was ok, so did everyone else.
I was so blind, we all were.
Once every day or so, she would pause,
looking away and stair off into space.
I'd ask her if she was ok, or feeling fine.
"Yeah, I'm fine." She would say, quickly turning to avoid eye contact.
"Hope so, can't have you feeling down!" I'd laugh and go back to the others.
Man, I was so blind! I should have known.
One day it all went to hell for us...
We sat together for lunch and I saw her bleeding.
Blood was smeared on the table
Fear flashed in her eyes.
She had cut herself, more than once
more than ten times!
I hated myself for not knowing.
Not knowing she wasn't ok, wasn't fine.
Days later someone had found her dead
it was after a weekend.
It was the worst for me.
I couldn't handle it no more.
I had to know why.
I went to her house and searched through everything of hers.
She left notes, tons and tons of notes!
She loved me, she hated the darkness she lived in though.
She wanted to tell someone, but she feared it.
She feared people and what they'd think of it all.
I blame myself, and yet, I can't.
I couldn't help her because she never asked.
I can't read minds, I can't tell by her actions.
She acted all the same, just like the rest of us.
Darkness just covered me as well.
Numbness took over, nothing left.
Emptiness, all just a dark pit of hate.
I slowly died, just like she did.
All from the loss of her, I died too.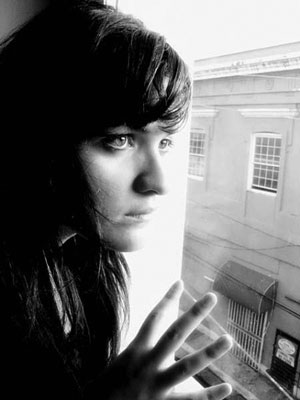 © Eveliz V., Bayamon, Puerto Rico