The Window Washer
MAG
August 30, 2014
This gray sweat city was bright
With reflected
Artificial light,
And dully roared
Like a caged lion –
Echoing emptily
Through the concrete jungle.
Yellow windows were lit
With scurrying silhouettes –
Blue impressionistic splotches, pacing
In hazy glass smudged with the impenetrable grime
Of lurid day after day,
Rolling like heavy ink
Into the blanketed night.
A washerwoman stood
Perched on her teetering scaffold –
Fearing nothing, for
Nothing feared her.
Hoisting bulky buckets of water,
Sloshing around like beasts – untamed –
Swelling her veined arms,
Like the ballooned feet
Of a pregnant woman –
She saw no difference,
It was quite the same.
Prune hands clenching ragged cloths,
Her palms squeezed out more water
Than the sponge,
And as suds drooled down the glass,
People looked out at her –
Laboring against the pinprick sun
Needling through ashen, metropolitan sky,
Then turned – sucked back like flies
Into a different, luminescent screen –
The washerwoman peered clearly in now –
Too bad – she lamented –
That she could not clean those.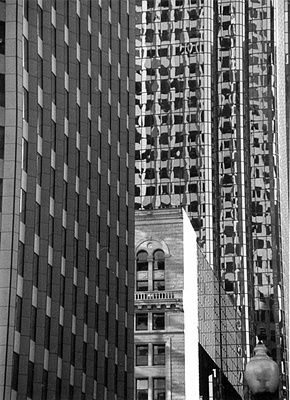 © Natalie D.,Marblehead, MA