white sheets, stained
July 16, 2014
The pale bed sheet owns patches of red disturbance
with slices of removed fabric
I speak in apologies with gravity deteriorating in my eyes.
On the stained scarlet bed sheets
a body lays
bitterly bruised by those harsh harmonic words
that would drift from her lips.
Somebody forgot the put the sticker labeled
"fragile"
on the crate of a body
the day I was shipped out to sea.
Dismay was
recorded into the bedding of burdens that the
crying corpse rests upon.
The blood could not be dismantled
as the bleach tries to cover the red nightfall
The shuttering blinds
opening and closing towards a hazy horizon.
The storm beating shadows began
roam the house with their lurking presence.
My body
self destructing upon the white haven of the bed sheets
splatted with inflamed fuchsia of crimson.
The knives and swords
stand on guard
hovering with true silence over my beaten heavy chest.
Knotted thorns ravel around the neck and spine
reminding not all is fine.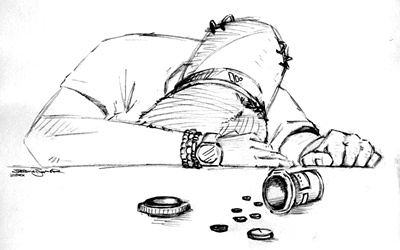 © Jeremy B., Austin, TX