Symptoms
June 13, 2014
The struggle to find the correct
combination of words that
will flow freely without the chop of stutters,
Without the raw and bloody throat screaming
The call it the point of crisis
Of intense fear
With the barbed wire body tremors
Body shakes and the bruised bones
shaking beneath the scarred flesh
Shortness of breath collapses underneath of
the bent attacking lungs
the wintry chills
began sailing upon the flesh
that crawls with insects
this is the arctic abandonment.
The yelling of the cracking interior
Air is a luxury
Some of us need an iron lung to stop the attack.
The dust is stuck in my lungs with glue
Clogging all blackness of space
The creaking woman moves
The tightness in my throat is a stiffened fist.
Minutes to hours
Moments

Seconds
Which is What feels like


days to the insane brain
The never ending narrow punch
Smothered by the silk sheet of anxiety
These symptoms of panic. Impending doom is the understatement

the panic crawls up my spine with its claws digging into the bone.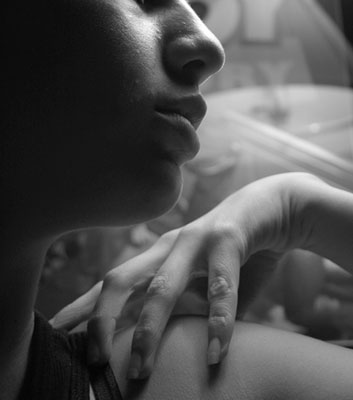 © Rebecca B., Santa Clara, CA