American Dreams
May 23, 2014
Holding smokestacks with fingers
charred from sparks of stars and steel.
Letting breath hiss through chapped lips
in heavy swirls of billowing skirts.

Crooked teeth and napalm kisses.
Hands running through greasy hair.
Dusty roads crunching like bones beneath
scuffed leather shoes stumbling

to dance with Destiny on powder
white moons, to twirl to the roar of
golden waterfalls, the wailing fanfare
of saxophones, in God we trust.

Snapping frayed rodeo ropes. Ripping
feathered masks. Teetering in the sky
in the beating of drums, blue and grey
melting into sizzling fireworks of red and

flashes of white. Rolling wads of faded
yellow scribbled with forgotten black.
Trudging through rivers of slick black fire.
Squinting at mushroom suns and blazing

acid clouds. Singing broken bottles on
great white fleets. Drifting away in
oceans of neglect. Holding smokestacks
Burning fingers with salty rain of

Blue and grey
sizzling red
starlit white
Freedom.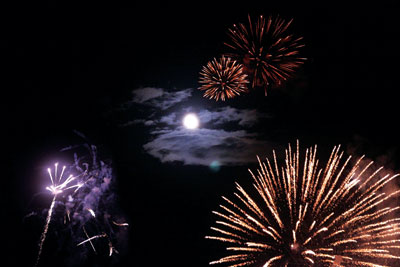 © Meena K., Groton, MA