Manifest
May 9, 2014
Aah, shite
She sighed
as she wiped the black
from her eyes,
the salty tears stinging.

She stared.
At herself.
In the mirror.
She smiled, that assured half-smile.
The other half whimpered in doubt.

She took her lower lip
between her trembling fingers
and folded it outwards.
There they were; the lovely bruises where his teeth had nipped.

She let it out, a repressed sigh.
How she hadn't wanted to leave.
Her hands reached out to wipe
away the tears,
Oh, to hell with you, Maybelline

She let her tangled hair down
and stripped.
The only witnesses of their night
strewn on the bathroom floor.
Dirty
but not embarrassed.

Her fingers traced the side of her neck
where his lips had met her skin,
in what she hoped had been passion.
Maybe, mutual affection?
If only it had been.

She stumbled into the shower,
her legs still shaking
like they couldn't believe what
she'd just done.
Like they wanted more of him,
more of it,
more of what they'd done.

The water scalded her skin,
but she felt nothing.
Her arms reached out and wrapped her sides,
holding her the way he did.

The steam rose up
but her vision was already a blur.
A blur of her and him.
Of limbs entwined
and mouths clasped,
the way they always should have been.

Her skin tingled
as she thought of him.
Him against her,
her against the wall,
against everything he'd ever said.

And she sighed,
a sigh so heavy and sad,
because the tingling left her.
Left her too quick, too swift, too soon
the same way he had.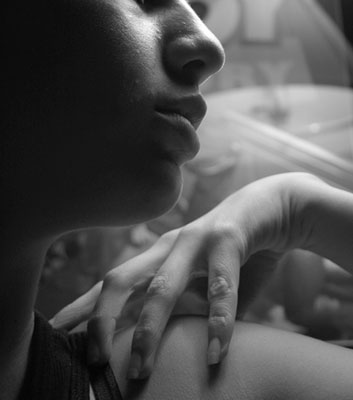 © Rebecca B., Santa Clara, CA