Broken Glass
April 19, 2014
There's a girl in the mirror,
she's always staring back.
Her arms are stained red,
and her eyes are painted black.
In her hand holds a blade,
the other holds a key.
It's a key to my chains,
this girl has a hold on me.
Sometimes I borrow her blade,
for all the pain I bleed.
The metal cuts into my skin,
I find it's all that I need.
Every time I close my eyes this girl is all I see.
she's everything I dream about,
the girl I'd hate to be.
The darkness surrounds her, her eyes look so sad.
I bleed sorrow for her beauty,
and the life I never had.
Last night I seen her bleeding,
she was begging her wrists for more.
Drowning in her blood bath,
the mirror smashed on the floor.
She stares at me through the pieces,
hoping each breath is not her last.
I shake my head and look away,
blocking out the flashbacks of my past.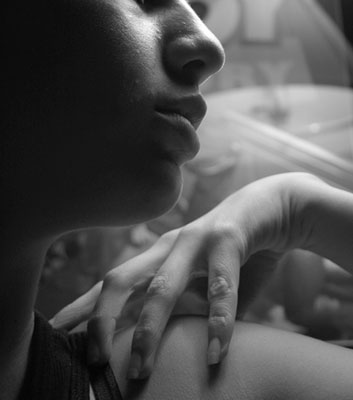 © Rebecca B., Santa Clara, CA