Then and Forever
March 16, 2014
History isn't the story of an individual,
It mixes so many others.
Everyone knew everyone,
When we once were all brothers.

Love was allowed
Among all peoples,
Together we leaped
past hurdles among Steeples.

Lives intertwined,
When souls cleaved.
Two hearts felt as one
When ten fingers weaved.

These things that we feel,
Are seemingly foreign,
We can say we've never felt them,
But they've just been hidden.

You see, we've lived more than once,
Though we have only just begun,
Our ives in this world,
As someone's daughter and son.

Our lifes crossed back then,
As a Taylor and Seamstress,
and then after that,
as a Prince and his Princess.

My Soul would search for you,
And yours the same,
A fatal Hide and Seek;
A never ending game.

I have seen the proof,
It was always there,
In those knowing eyes
Or the smile you wear.

I have seen them before,
And so I know them now,
As I did back then,
When I said my vow.

Once, when we walked
Across the warms grains
I told you all this,
But I shal tell you again.

"On the warm golden sand,
Close to the calm and stormy sea,
Upon the shimmering shore,
Are the feet of you and me.

Little prints of fate,
That trace the passage of time,
Back, all the way back,
To the first time you were mine.

A time before this,
Before our years,
The hugs and kisses,
The love that we shared.

All of this; ours,
Has lived time before,
And all the proof we need
Is printed on the shore."

Those prints have caugt up to us,
We have come around full swing,
I have found my Queen once more,
The one with whom I became King.

Fate has made the decision,
That our lovely game should end,,
Until the time comes
For it to begin again.

Now another lifetime to add,
To the long list of lives
That we spent with each other
As husbands and wives.

One day it will come
That we shall depart,
But as long as you loved me,
I'll go with a light heart.

However long it takes
To seek while you hide,
Matters not really,
For the prints are wary of the tide.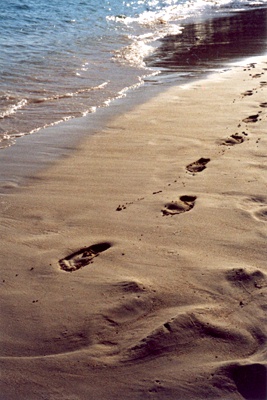 © Ashley B., Potomac, MD