My Avenue
February 5, 2014
Poetry. A way of life that is without restrictions, without limitations to who I am.
Life is full of boulders, hurdles, barriers, things always in the way.
People to tell you who they want you to be and what you are is not adequate.
Life is full of these people.

But when I write…that is my departure.
Poetry is my way out.
No judgments. No preconceived ideas about who I am. No doubts. No put downs.
My poetry is for me, no one else.
This is my terrain and my kind.

I am in command. I am the queen of my realm.
Poetry is a time for relief from
The struggles I have been through, the ones I am going through, and the ones I have yet to face.
When there is no one to turn to, no one to listen, poetry is there.

A pencil and paper is not needed, but may be favored.
A voice recorder is not required, but may come in handy.
A voice is not even needed, but is pleasant to have.
Money is most certainly not required, but wanted.
A heart and soul…now those are mandatory.

I may not be able to speak or write, but I can imagine.
Everyone is capable of walking the avenue of poetry, of opening the key to their very own kind.
It is a chance to take.
There are many other paths in life, but this was mine.
I can try to turn back, however there is no way to leave forever.

In some ways I deem I did not even discover my way, but it stumbled upon me.
Life is no tile. It is not smooth and clean cut.
Life is but natural rock, cut organically with ridges and points.
Life has the cracks we may fall into or the bumps we may trip over and as I grown into the person I will someday be I will only face the more superior rocks.

When I feel forlorn or when I have nowhere to turn, I have one path I can always take.
Poetry.
No one can take it away.
No one can tell me I am doing it wrong.

The achievements I have gained on this path are but a bonus.
They do not really matter.
What matters is I found something I do for myself.
Something that makes me content and complete.
No one else.
Poetry is for me.

Poetry.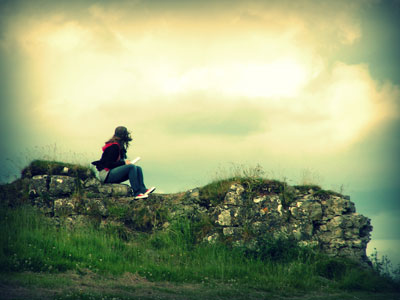 © Caroline C., Coronado, CA