Fake a Smile (Original Version+Response Take My Hand)
February 7, 2014
I fake a smile everyday.
I act cheerful.
The key word here is "act".
That's all it is.
An act.
I don't know,
or at least I don't remember,
what it's like to truly smile.
To be able to say
"everything's fine",
and not be lying.
It's the emptiness that causes it.
Can you feel it too?
Or is it only me?
Because I feel like I'm all alone.
I fake a smile,
and I fake a laugh.
I nod my head
and act like I'm listening.
I'm only listening half the time.
The other half, I'm alone.
In a world of my own creation,
where everything seems okay.
But it's not.
And then reality hits me,
it slaps me across the face.
And I remember that it's all a lie.
Everything.
I'm not fine.
But if I told you, would you care?
Or would I just be a cast off,
a misfit and a reject,
thrown out with the rest of the trash
that doesn't "function" properly.
Maybe I'm broken'
but I'm not worthless.
Yes, I have an "error",
and I understand that everyone
only wants perfection.
But I'm not perfect.
So listen to my un-perfect voice,
that's not really clear,
but is very loud.
Will someone listen
to what's really here?
Can someone help me escape
my role of acting in a movie?
And let me be completely free
to be me?
Because until someone does,
I have to fake a smile.

Response (Take My Hand):
Take my hand
and I'll lead you through.
You don't believe me?
Ha! My love is only you.
You can trust me,
you don't have to worry.
I know you're scared
of being lied to,
of being betrayed,
and of being hurt.
But you can trust me,
you don't have to worry.
When you talk to me,
you don't have to fake a smile.
I'll listen to what you say
and rescue you from the scary movie
that you're trapped in.
So come and take my hand,
my beloved actress,
You can trust me,
you don't have to worry.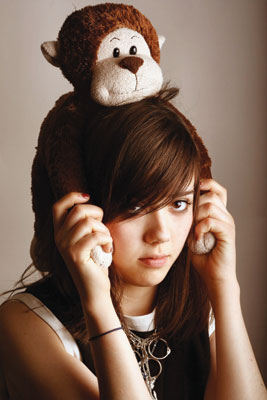 © Elena P., Bronx, NY