Dliyxsea
November 22, 2013
Solw, dmub, seicpal ed, rtraed.
A tag on ervey flie, ervey book,
A cloalr aornud my ncek for all to see.
Tcaheres tnihk I am deffrinet.
A psagsae of randieg
Nraortar pesasd aobut the room
One by one
Esay and stomoh; no big dael.
Wnorg.
Eyes drat aoubt the room
my slaml fnegris tbmlere.
The trun stwhceis.
Reared the pagarparh
Oevr and oevr
Konw the wrdos
Mmzroiee.
my trun, so far so good
Tirp, stetutr, iodit.
Tehy all look aawy hnidig bcak the glgiegs.
I konw waht tehy'er tknithnig.
Htraed fodols my slkul lkie a tmasuni.
Fneleig my fcae flil wtih the red haet of erarmsmbanset.
You feel the slaty ferhsodaw of tares.
Deep btareh.
Jsut keep mnvoig.
Flalniy dnoe.
Haed stcurk hrad to clod tcihk pasltic.
I am dnoe.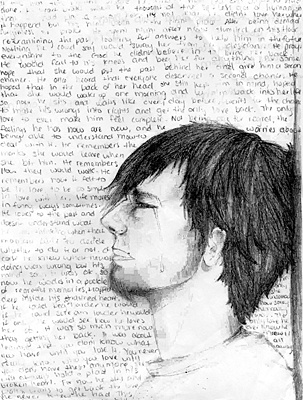 © Annie M., Columbiana, OH