gothic
October 23, 2013
Image yourself, rotting worms and bugs eating away your flesh and bones. Not the way, you think you want your rotting flesh to fade way in ever ending time.
Now see yourself in the ground, where time means nothing and sunlight or darkness means the same. Now see the bugs, and other small creatures adding decay and its slow sleep. Long slowly sleep takes your dead body, and slowly tares away our flesh and bone to dust.
Now that decay has started you have no place to go in your grave.
Now your lips turn black and your skin turns a white as, no sunlight or air or moon light can reach you in the grave. Slowly your limps grow thinner, your hair begins to fall out and your clothing begins to be come to big for your body.
Now in your grave lays a sckecton with small patches of clothing and pure white hair on your skull. Now the bugs and worm's go back into the ground, to enter another tomb.
Now you lay still as ever, but barley you hear words and a bone hand slowly starts to move. Then a skull turns around. Then the bone hands start to try to force their way out of the grave and slowly the skaction forces its way out and slowly walks away from it is grave and heads for the nearest town to rejoin the living in the realm of the living.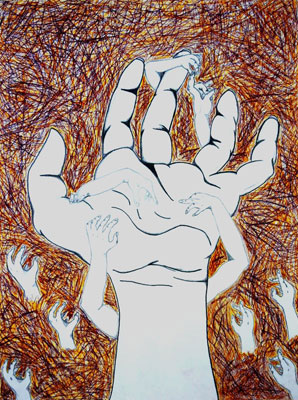 © Ariana R., New Orleans, LA