Evolution
August 10, 2013
You asked me How to evolve into greatness.
I locked onto your eyes with a glint of confusion
Sparkling in the corner of the right.
And you asked again. "How do you become great?"
What do you mean? What are you talking about?
I look at you and I brush my hands up and down my body
As if to say "THIS is greatness?". And you asked again.
"I don't know. Ask me later."
And you did. And I waited.
Waited 12 months, 52 weeks, 364 days, and 8736 hours
For the answer to come and when it did, for you to ask
Again.
The day after you asked my thoughts wrapped around the
Question like a piece of wire coiled on a dirty pole
To make it look more presentable.
And the week from that day I was thinking about it again.
Letting the seven words carve themselves into my
Brain deep enough for them to stick.
And the first month afterwards I wrote a three page
Poem on myself and your question. The
Simplicity of it but the difficulty I was having
Answering you.
And the fourth month after id been walking in the
Parking lot when I'd helped an elderly woman
With shaking arms who'd dropped her bag just
To see her smile instead of grimace. I thought
About it.
Two months past and I found myself at a writer's conference
With more talent than I could imagine because of a
Naïve poem I'd written. The next two weeks I waited
For the acceptance to be in the most accepting
Group I met yet. Rejecting my coach's guaranteed
Opportunity to be a part of her four year plan.
Just because I like a little suspense to come
With my challenges, and this one ended up being
The most successful. And this success has gotten
Me further than I thought and im anticipating
My steps deeper in.
And two months went by without thinking of
You or your awaiting question. Just too busy
For my own good. Too consumed in my own
Schedules of games, journals, and memories.
The eighth month came around and I got a
Hint of what you were referring to as I prepared
To stand up in front of a class of thirty kids ready
To jump in the middle of something that wasn't even my fight.
I just knew they were wrong.
Making fun of the person he is. Pointing out every "flaw".
He was their victim fighting to keep his head above
Water with silence. Yelling across the room I stood out
Of my chair sticking up for someone who was too
Shy&quiet to stick up for himself. The classroom fell
Quiet but I still stood loud and proud to stand
Up for him because they were wrong, and
He'd always been right.
A month later I rock, holding my knees, with
Tears strolling down my face. Not sad but so angry.
This gut feeling taking over my body. I couldn't
Understand what their problem was. Why
Their insecurities brought them to antagonize
Someone they knew wouldn't say anything.
Someone who only lets honey drip from her
Lips. The most caring person you'll know if
You let her. What was the point they were trying to make?
Two more months after I stayed up until
Midnight rehearsing and practicing each move
Of a sequenced pattern. Step after step after step.
Refusing to let my best friends and I be
The weakest link. We danced, jumped, smiled,
And screamed until the final minute to performing
Came. That night we came home more successful than
Ever, and I lay in bed thinking about
Your question.
And finally at the end of December and the beginning
January I watch the ball drop and I'm pushed aside by
Friends reaching out to touch lips with one another.
It's 12:02 and I'm reminded of you and your
Question. Reminded of my memories. And I'm starting
To think that maybe I do know what you were talking
About. And I want to tell you. I want to talk to you
Like we did last New Year's. Wanting to answer
Your question as best as I know how. I call you
And tell you I need to look you right in the
Face and tell you something I've been gathering
Up for a year now. I run six blocks to your house.
Panting. My legs becoming numb. My lungs
shriveling inside of me because of the
Breathes I'm taking to race to you. I meet you
On your doorstep. Falling into your arms. My legs
Giving out. My body becoming limp. I grab your chin
With my right rand turning your face down towards
Me and say "Ask me again. Ask me so I can tell
You of the success that comes with my writing.
The better I'm becoming at my talent. The way I'm
beginning to prosper. I'll tell you of the way I'm helping
anyone I can, no matter their past or the way they live.
Reminding you of my fight for whatever I feel is right and
never settling for someone who will be less than what
I deserve." I won't let go of your face while you stare down
at my mouth to catch everything I'm saying and me explaining
the struggle I went through to get this far. To get to a
point where I'm starting to find myself. And you reply
as simple as ever with
"And that's greatness".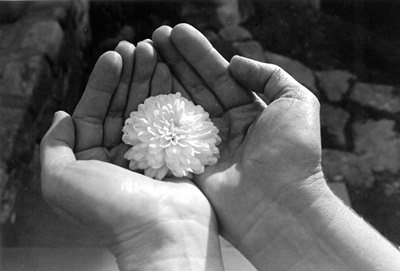 © Beth S., Marblehead, MA