Dear God
July 18, 2013
I don't know precisely how much you see
and directly how much you hear
but I have a inventory of incentives that lead me to believe
you observe the world through your armpit.

Last Sunday I was at mass with my friend
who only partially knows the Creed by memory
and very vaguely recalls any happiness by memory.
When we were kneeling down I caught in the corner of my eye
exactly what I felt to be the most heart wrenching and
soul clenching thing and I thought as though every bad emotion
in my whole body was playing ping pong against my feet and my head.

I never asked her why there were two cuts on her wrists
or why she didn't pray anymore
but I assumed its because she's watching her aspirations melt down an ice cream cone
or she's plunged half way in love with a boy that's only half way levelheaded.

I have been instructed to not let it bother me
so naturally, I stay awake until two in the morning and bang my head
against every wall in the house
because I think that'll help me come up with an answer quicker than praying-
no offense.

If you can hear anything just hear this
there are people that call to you who are starving on bitter streets
and there are people that call for help because they've misplaced their cell phones.
There are people like me who sit and stand in dissimilar places on dissimilar days
and have reservations as to why you wanted us here.
I am not trying to be harsh
I know you're hard at it
but I am progressively seeing less and less
everyday.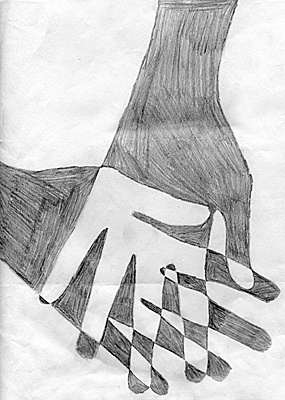 © Warlito B., Tamuning, GU