I'll Tell Them
July 17, 2013
your voice is small and quiet,
an atom in the universe
pelting stars with pleads
that go unheard,
but I hear it.
your words are long and slow
and they drip like honey out of your mouth,
pour onto the pavement,
tangle with rain
until they slip into drains
and gutters,
forgotten,
but I hear them.

your stories
and poems and rants and songs
echo through the air
like the train that rumbles at midnight,
and I'll attempt to translate
them into something the ignorant can understand,
but sometimes their beauty slips through my fingers
like the delicate gleam of sunlight on water,
and my translation is nothing more than
sand.

if they could hear you, you'd tell them of
girls whose proudly wear their bones like jewelry,
their thoughts a noose around their neck,
and children with strangled bodies
pregnant with hunger,
whose cries go answered
with another empty gunshot.
you'd tell them of
the boy shrouded in darkness,
everyday a civil war,
his heart golden,
but mind charcoal,
and he can never tell which one is winning.
you'd tell them of the middle-aged housewives,
the ones who missed their chance or simply counted
on a later that never came.
You'd tell them of the poets and the actors and the singers
washed away by age,
faded by obligations and promised opportunities
that always managed to evade their grasp.
You'd tell them of the way the
stars glimmer from Mars
and how the sun shines
at one o'clock in the afternoon,
and the colors that dust the sky at dawn.
you'd tell them of the star-crossed lovers
with the happy ending,
and the survivors
whose scars dapple their body like constellations,
but they march on unafraid.

you'd tell them,
but your voice is small and weak
and your lips tremble,
and so I will try and translate
the words you cannot speak.

I'll tell them.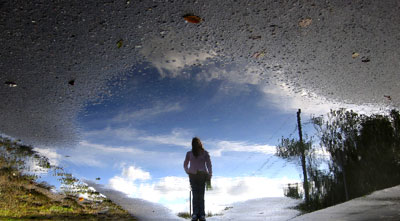 © Daniel H., Oak Bluffs, MA