The Fight of the World
July 10, 2013
I close my eyes
And try to ignore the pleas as they yell save me
In a world filled with gun shots and blood
Will anybody ever help me?

I try so hard to help others with their cries of pain
Ending with a desperate cry of my own
I ignore the pins spreading through my body
The world around me goes deeper and deeper into the dark
As peoples personal demons show their raging faces

Only a few remain in the light with clean bodies and minds
They are pressured in a world of kill or be killed
And still remain angels to the grave
But with violence at every twist and turn
More and more cries can be heard

Will the world ever be the same?
After endless battles of rage
For stupid things like religion and sexuality
Drugs, murder, and endless possibilities
Desperate to make their claim in this world

Who will stand and fight?
Who will cower in the dark and hide until it is over?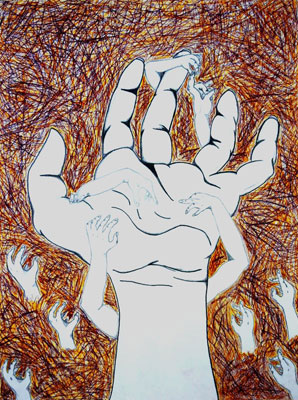 © Ariana R., New Orleans, LA