pencils.
May 19, 2013
First time I met you,
I thought you were a petty little boy.
At a desk, with a pencil.
Another one of the devils little decoys.
The years they passed all the same,
till all of a sudden I could breath your breaths,
I had a meaning to your name,
under your underarmor was hope, or happiness, or pain.
I started to see different sides
of this boy i thought i knew.
some walls came down from that goofy smile,
and under it all I found you.
In the sweaty days of summer,
my favorite girl brought us closer together.
and all of a sudden you were always there.
A new confident, a second confessor.
And now as lessons have started,
you've helped me along some paths.
Ever so lightly and silently
you pulled at my heartstrings and caught my mind aback.
And all at once it hits me,
The "petty little boy" i once knew.
The boy at a desk with a pencil,
the conflictions are all about you.
So i'll kick dust in my eyes as I watch it,
watch my hopes be covered by sand,
as he slowly eyes me and walks calmly away
walking out of my life, and onto a different, "others dream's" land.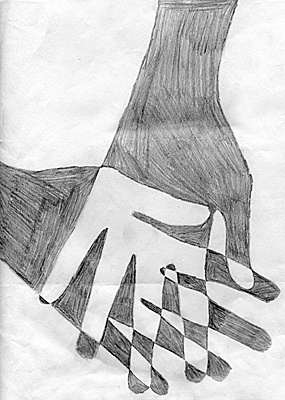 © Warlito B., Tamuning, GU